Intelligent Protection International Limited - Providing over a decade of security and protection for our global clients!
The BBC Series: Bodyguard – Fact from Fiction
"An instant hit, the BBC Series Bodyguard hooked viewers with its dynamic storyline and on-screen chemistry"
Intelligent Protection

›

Security Blog page 1

›

The BBC Series: Bodyguard – Fact from Fiction
From August to September 2018, the BBC aired a six-part drama series called "Bodyguard", written by Jed Mercurio and starring Richard Madden and Keeley Hawes in the lead roles.
Vogue magazine has said: "Bodyguard is the best political thriller since Homeland" now, that is a bold statement of course, but, whatever your thoughts, there is little question just how successful this series was.
A while back now, we wrote an article about the film "The bodyguard" and we looked at the storyline, breaking it down, fact from fiction.
The storyline of "Bodyguard" revolves around Madden playing Sergeant David Budd, a Diplomatic bodyguard with the British Metropolitan Police's Royalty and Specialist Protection unit, who is assigned to guard Julia Montague, the British Home Secretary, played by Hawes.
The series kicks off with a very exciting episode where Sergeant David Budd stumbles upon a suicide bomber on a train, while traveling off duty with his daughter.
No doubt at all, the UK was gripped by Bodyguard and it has been hailed as a total success, one of the most watched dramas of the last decade across British television, seeing over 12 Million viewers per episode, the most watched TV show in 2018 after the football world cup. It is also said that Bodyguard broke records on BBC iPlayer, seeing 12.6m requests for the final episode.
So, what about the storyline, how close was Richard Madden's portrayal of Sergeant David Budd compared to the role in real life?
The Bodyguard - what the Police thinks
In the United Kingdom, Diplomatic Protection is provided by the Metropolitan Police Service's Royalty and Specialist Protection (RaSP) unit, they are responsible for the personal protection of members of the Royal family, and all Government ministers.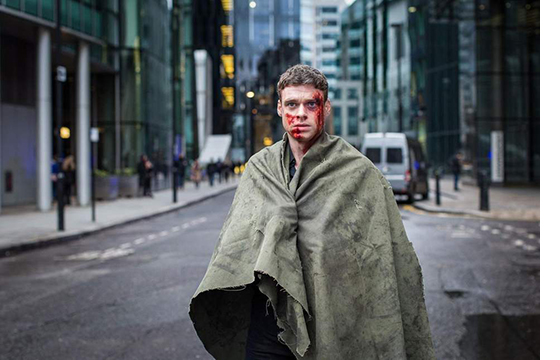 The Metropolitan Police don't often comment on TV dramas, but in this case took the unusual step of putting Detective Chief Inspector Steve Ray in front of the cameras. A bold move by the Metropolitan Police who are normally very private and inward looking.
Detective Chief Inspector Steve Ray is a real life, senior member of the Metropolitan Police's RaSP unit. Detective Chief Inspector Ray has many years of experience and has protected the former Home Secretary, now Prime Minister Theresa May, and members of the British Royal family.
Speaking on the character of DS Budd, he said: "There's no doubt that I have seen things I never thought I'd see and been to places I never thought I'd travel to, but my day-to-day life bears no resemblance to the programme," adding: "Rather than work in isolation like the lead character, I'm part of a large and committed PPO team working to completely protect our principals - and it's fair to say you wouldn't last long in our team if you cross the line to form too close a relationship with the principal you were protecting!".
Deputy Assistant Commissioner Lucy D'Orsi from the Metropolitan Police's Specialist Operations Command, said that she felt that while the drama series had "generated huge interest in Counter Terrorism Policing", that it "bears little resemblance to the reality of fighting the terrorist threat in the UK".
The Metropolitan Police saw a huge spike in interest in members of the public who were interested in a career in Counter Terrorism Policing and in becoming a Police Bodyguard. The BBC series Bodyguard may have done more for Police recruitment than any recruitment campaign of the past decade.
It is fair to say that in Police circles that it is felt that an opportunity was missed to show the job in a more professional light. A major grip in the storyline was the crossing of the professional boundaries with DS Budd and his Principal, the Home Secretary. While personal relationships can of course develop, it is highly unprofessional and puts protective operations at risk. Historically, Princess Diana is alleged to have developed a personal relationship with her Bodyguard, Barry Mannakee. He was relieved of his duty, after it was determined that his relationship with Diana had been "inappropriate".
What do professionals think of "Bodyguard"?
We have been providing Bodyguard Services to clients around the world for many years now and we obviously have an opinion on how our profession is portrayed. Our CEO, Alex Bomberg gave an interview to BBC radio on the subject of Bodyguard, how it relates to the commercial world, the privacy of clients and what it takes to be a bodyguard in the commercial world. The interview is available on Soundcloud here: Interview On The BBC Series Bodyguard.
Within the British Bodyguard Industry, the series was not very well received, again, the consensus was that it was a missed opportunity to show the profession in a good light. There was a lot technically wrong with the Bodyguard series, and again, there was a lot of discussions around relationships with Principals and this is seen as unprofessional, yet does happen in the commercial world.
Celebrities who have dated their bodyguards include: Kate Gosselin, Scarlett Johansson and Kim Kardashian. Bodyguards are in a trusted position, and while they must form bonds with their Principal, there is a line that simply should never be crossed.
Another major point, in an industry filled predominantly of former police and military, was the Post-traumatic stress disorder (PTSD) storyline. There are a lot of former military and egergency service personnel who suffer from PTSD at different levels. Many felt that PTSD and its victims were let down by the series, DS Budd was made to look bearing functioning one moment and totally fine the next. It was not felt in many quaters that the BBC was sensitive to PTSD and its part in the storyline.
PTSD and mental health matters are very much at the forefront of the work of Great Britain's Prince Harry, who is championing the cause, shedding light on the subject. Some veterans have felt though that the PTSD storyline in "Bodyguard" has at least again made PTSD a topic for conversation.
In an interesting article in the UK's Times newspaper titled: Bodyguard: why the BBC drama's portrayal of PTSD rings true for veterans, Ahmed Al-Nahhas, a Partner in the military claims team at law firm Bolt Burdon Kemp, declared: "sufferers often try to avoid their symptoms. David seems to turn to alcohol rather than talking about his feelings, and his wife has seemingly left him because of this. Sadly, this is quite true to life. We often see veterans struggling to come to terms with what they experienced in combat, and the condition can tear family life apart." He also said: "We often see veterans struggling to come to terms with what they experienced in combat, and the condition can tear family life apart".
When is season 2 of the Bodyguard?
Series creator Jed Mercurio has hinted he has explosive plans ahead, stating in an interview with the UK newspaper, the Daily Mirror: "I have got some ideas for a second series, but it is worth waiting until the run is finished to see which bits worked and which bits didn't work for the audience."
In mid-September 2018, it was said by the Daily Telegraph in the UK, that the BBC had a bit of a fight on its hands to keep hold of Bodyguard Season 2 because it has sold the distribution rights of Bodyguard to Netflix, who now had the international rights to Bodyguard outside of the UK and Ireland.
Netflix, in a punt, purchased the rights of Bodyguard at the script stage, so, they are on to a real winner! Many have pointed out that Jed Mercurio, the series writer and creater is tied up with other projects for the next year, so we may not see Bodyguard Series 2 on our screens until late 2019 or 2020. UK broadsheet newspaper the Independent reported in early November 2018 that Richard Madden is "very keen" to hear about Bodyguard creator Jed Mercurio's plans for a second season of the hit BBC show, and expects it to return; adding that a second season of Bodyguard seems inevitable.
One thing for sure is that both the BBC and Netflix will be keen to exploit the success of Bodyguard and get a new series in the can as soon as possible.
If you are interested in becoming a real-life bodyguard and think that you have got what it takes, have a look out our article on the subject: How to become a Bodyguard.